Shopping Basket
Your Basket is Empty
There was an error with PayPal
Click here to try again
Thank you for your business!
You should receive an order confirmation from Paypal shortly.
Exit Shopping Basket
Priory St, Ware, Hertfordshire
Helping you find Health & Happiness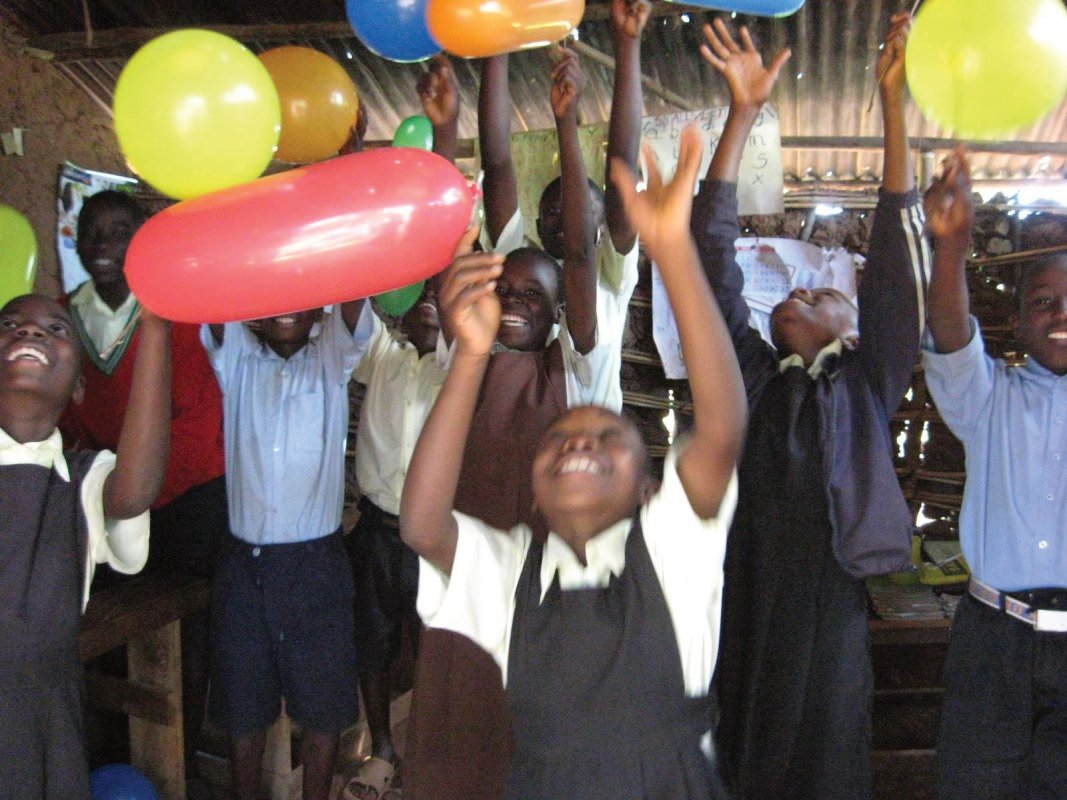 I had the honour of working as a trainer at a Kids Journey day recently here in Hertfordshire. The children were aged between five and eleven years, and had a wonderful mix of innocense and wisdom beyond their years! 
The day started with artwork and games to help them to relax and get to know each other. We talked about what happens when we experience upsetting emotions and are not able to express them at the time. How when we 'stuff them down' or 'swallow them', they get stuck in our bodies and make us feel unhappy inside.
The children get to give each other a mini back massage, and practise sensing where on the back of the child in front of them there might be areas of heat or cold. These indicate areas of blocked energy.
We talk about a time when each of us experienced some sort of upset that left us feeling unhappy, and we draw a picture of this. Then we talk about the sort of healthy resource qualities that would have helped us to deal with the situation far more positively and healthily, such as 'knowing I am loved', 'trust', 'protection', 'safety', 'asking for help'.
The children are then encouraged to 'breath in' each of the supportive resource qualities and then draw a picture of how the situation would have looked if they had had access to these qualities. The second pictures are always brighter, more colourful and have smiley faces :)  Then we have real fun acting out the scenes, with each of us playing a part.. if there are no people parts available, then we play the best chair that we can be, the best desk, the best pair of curtains!
When it comes time for the kids to have their journey processes, we get them really comfortable, so they feel safe. The physical journey is like an exciting adventure inside a spaceship that can travel inside their body and go to the place where the unhappy experience and emotions are stored.
The body/mind always knows what the memory is that needs to be dealt with, and kids are very straightforward in speaking out what the problem was and find it quite easy to let go of any pain and forgive anything that needs to be forgiven.
They look so shiny and happy when they have finished, and I hear that the changes in behaviour once they are back home are quite amazing.
It is such a priviledge to be able to gain the trust and confidence of these lovely little souls and help them to let go of unhappiness they may have experienced in their lives. It also gives me a chance to be a kid again and get playful! It is so liberating to experience again the freedom and innocence of being childlike - try it yourself sometime!
For the last few years it has been a pleasure to give voluntary treatments to clients of CRI (Crime Reduction Initiative) drug & alcohol rehabilitation centre in Hertford. The clients were able to relax and find their own inner stillness in quite a profound way through Aromatherapy massage, Reiki and seated massage. Many of them found that the benefit lasted for several days afterwards, which all helps with chosing a healthier way to live.
Addiction always has an emotional root cause.. the challenge is to uncover the cause and be able to move on from it. In a few cases, I was also able to do Journey work; which allowed one client to let go of the huge guilt and grief felt for the loss of a friend. This person was finally able to forgive themself for something which was not their fault, but which they had taken on responsibility for. It is so rewarding to see someone put down a huge burden they have been carrying around for  so long.
Sadly, I have now ended my service with CRI, as there are new opportunities I would like to pursue. I would like to say thanks to all of the staff at the centre who made me so welcome and supported my time there.
Several months have gone by since I was in Kenya, the school staff still keep in touch with me to let me know how things are going and the children still play the games I taught them!
When I was there, many friends asked how they could help with this project, and now I have some facts and figures to offer as suggestions.
There are currently four teachers serving at the school, with no guaranteed income other than the donations of well-wishers to back them up. They also have plans for a number of self-sustainability projects for which they will be fund raising.  
Without the service of qualified teachers, the school cannot continue, so their first priority is to look for a donor or number of donors willing to offer to sustain one teacher's salary for a year. For example, the teacher/ director's salary would be 15,000 Kenyan Shillings (KSH) or £112 per month. If five people pledged £22 per month, this would guarantee that the role of managing and giving direction to the school could be fulfilled.
If this is something you feel you would like to contribute towards, I would love to hear from you, please do get in touch with me. I already have a generous donation of £100 which I am going to match, and I am setting up a system of feedback with the school, so that they can let me know each month what work the school has carried out, and provide some photographs and paperwork to record who has received the funding. International funds transfer means that the salary payments can be sent directly to the teacher's mobile phone with confirmation of receipt.
Thank you for taking the time to read this. I wish you all the best for 2012.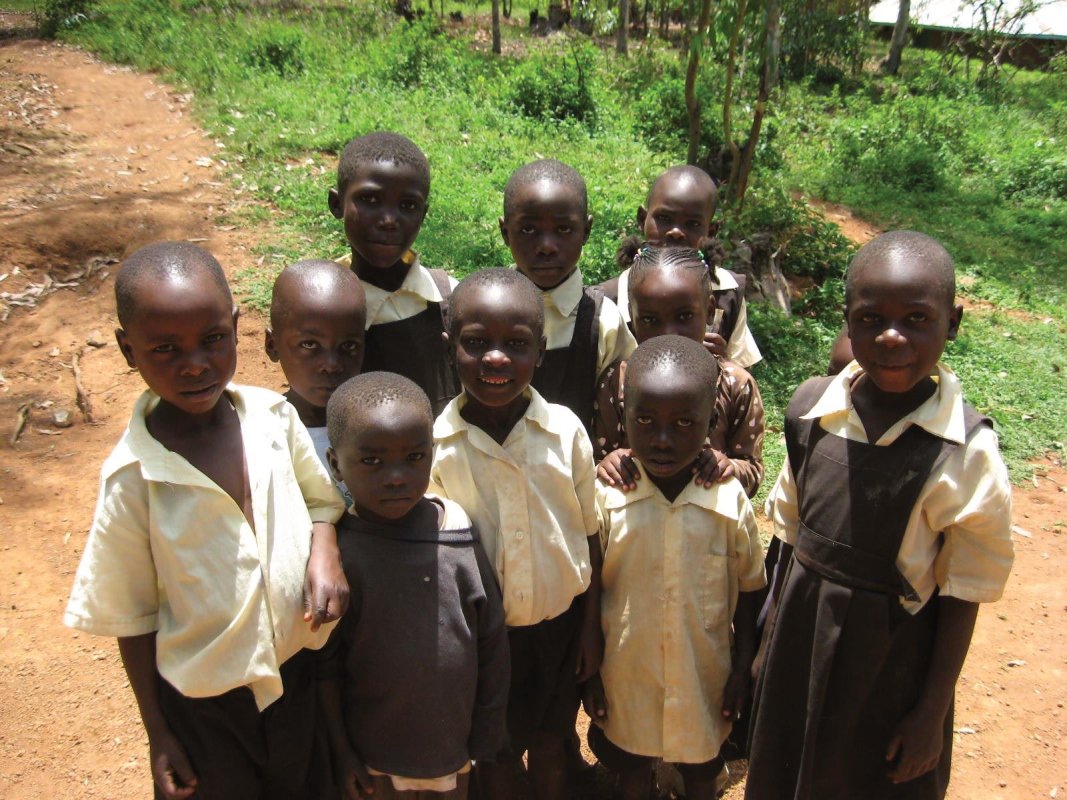 Ken Ariri –founder of Hill Breeze Orphan Support School (on the right in the photo with me in it). Ken welcomed me with great enthusiasm to the school, involved me in all activities, introduced me to the local community (and his extended family) and ensured that my visit was both enjoyable and successful.
Joseph Ouko – co-founderof Hill Breeze school and teacher at Nyabola Girls Secondary School (on the left in the photo with me in it). Joseph introduced me to the pupils and staff at his school and offered (as an alternative option) his house as my accommodation, which was very kind.
Samuel Omoro –Head Teacher (on the left in the second photo). Samuel helped me to settle into the school, and was great company during the evenings when we all shared dinner together.
Lorenza Ochieng –volunteer teacher at Hill Breeze (in the middle in the second photo). Lorenza worked really hard; aside from teaching, she prepared delicious meals for Ken, Samuel, herself and myself. She also did my laundry.
Non of the staff get a formal salary, they may get a small sum for expenses of 2,000 KSh (£13) if funds allow. They do this work out of the goodness of their heart, and to gain experience until they can find permanent employment.
Three weeks went very quickly at Hill Breeze, and it seemed as though we were just settling down and getting to know each other when it was time to leave. Ken organised a wonderful farewell send off for me, having coached some of the children to sing very touching messages of thanks and good wishes. We had a really joyful celebration, with the children dancing around the compound waving their 'resource balloons'. I felt very honoured to have been a part of this little community and thankful for the contribution I had been able to make towards the continued success of the school.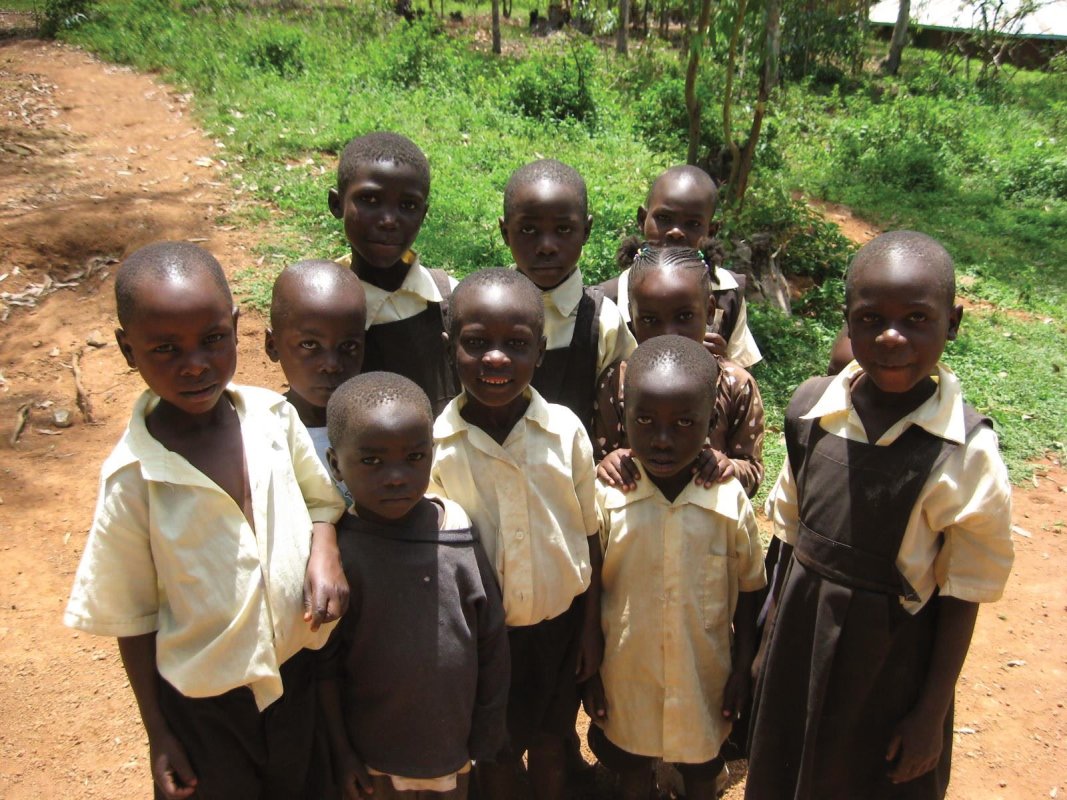 'Dont forget us, please come back' was the common message to me, and if it is meant to be I would love to!
I also visited Lake Victoria one weekend with Ken and we took two of the school children as a special treat. The lake is so large that you cannot see the other side so it looks just like a sea. We soon attracted a band of local children who were obviously unused to having many white visitors, providing a new source of entertainment for them. Many of Ken's extended family live in this area and again I recieved a very warm welcome from everyone. We spent a very entertaining evening dancing to traditional African music, the sight of a western lady willing to get up and dance alongside them caused much amusement!
I witnessed first hand the simplicity of a farming community who rely on the land or the Lake for all oftheir resources and sustenance. Many people have quite large pieces of land by European standards, but their lives are hard and entirely dependant on the benevolence of the forces of nature to provide food and produce to sell. Life is based entirely on the priorities for survival; food, shelter, water and clothing. There are no luxuries to be seen in these rural homes. Clothes are worn until they fall apart and furniture is passed down from generation to generation. No self-indulgent consumerism here! With no running water in rural areas, all water for drinking, cooking, washing and bathing has to be brought back from the river unless there is a bore hole on the land. It is a common sight to see ladies carrying heavy containers of water on their heads, and the river may be at least 15 minutes or more distant from their homes.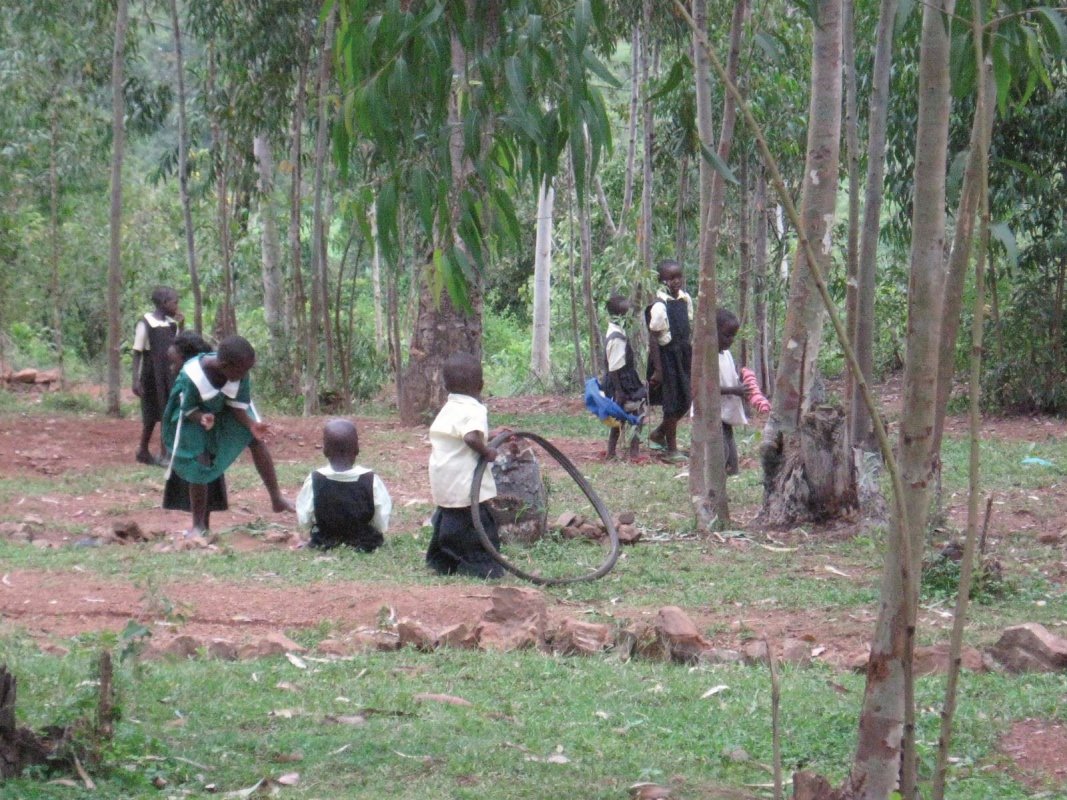 Watching the children at play was a lesson in simplicity. With no expensive gadgets or toys available to them, a football consisted of a number of plastic bags all wrapped together. A make-shift steering wheel and the imagination of a young boy took him on a drive all around the compound! A bicycle tyre  and a stick could be expertly kept uprightand rolled around as yet another play activity. The older children watch out for the younger ones, but they learn to be self-sufficient at a very early age.One little boy of 2.5 years wandered around in his own little world, without any demands for attention from anyone.
It was saddening to hear that Nyanza province has a high incidence of HIV/Aids,leaving many children without parents and further impoverishing the community.These children are part of a community who see no real tangible way out of their impoverished circumstances. Through Journey Outreach we hope to open their awareness to the limitless possibilities born of self-belief, self-awareness and the power of positive intention.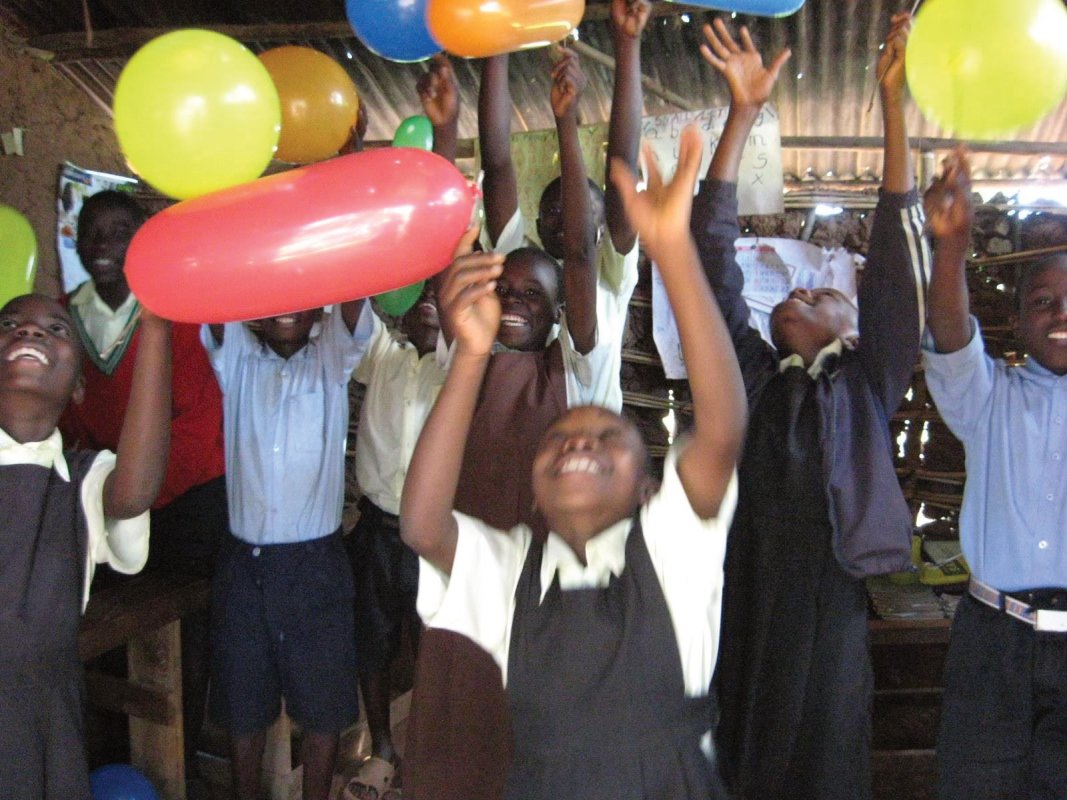 Building on previous work done with the children, I used Journey therapy techniques to encourage them to be aware of all of the emotions stored within them, to welcome and release any negative feelings. Maybe they could remember a timewhen they felt sad, alone, scared, unloved. We used a resource balloon visualisation to breathe in really healthy supportive qualities such as love, forgiveness, strength, courage, safety, protection. When they replayed the memory, they noticed how it would have gone if they had had access to all of these resources. All of which helps to reframe the memory and release the trauma from it.
For the first couple of days, I sat in on classes and observed the lessons as an induction into the curriculum. Then I was given my own classes to teach:  class 2 SocialStudies, class 3 English and class 4 Science. I am not a teacher by profession, but I have a science background and my life experience has included many public speaking events, plus training and coaching activities; so I found that inspite of my initial nerves, I really enjoyed teaching the classes. It really helped to do lesson planning for the following day to ensure that visual aids and the best means of presenting the subject was worked out in advance.  As Kenyan spoken English tends to have quite a strong accent, I had to ensure that I spoke slowly, repeated important information often and said things in different ways to ensure that the class understood me. Sometimes to illustrate a point I used comic actions in order to make them laugh and retain their attention! This amused them no end, maybe because Kenyan teaching methods can be quite formal and serious.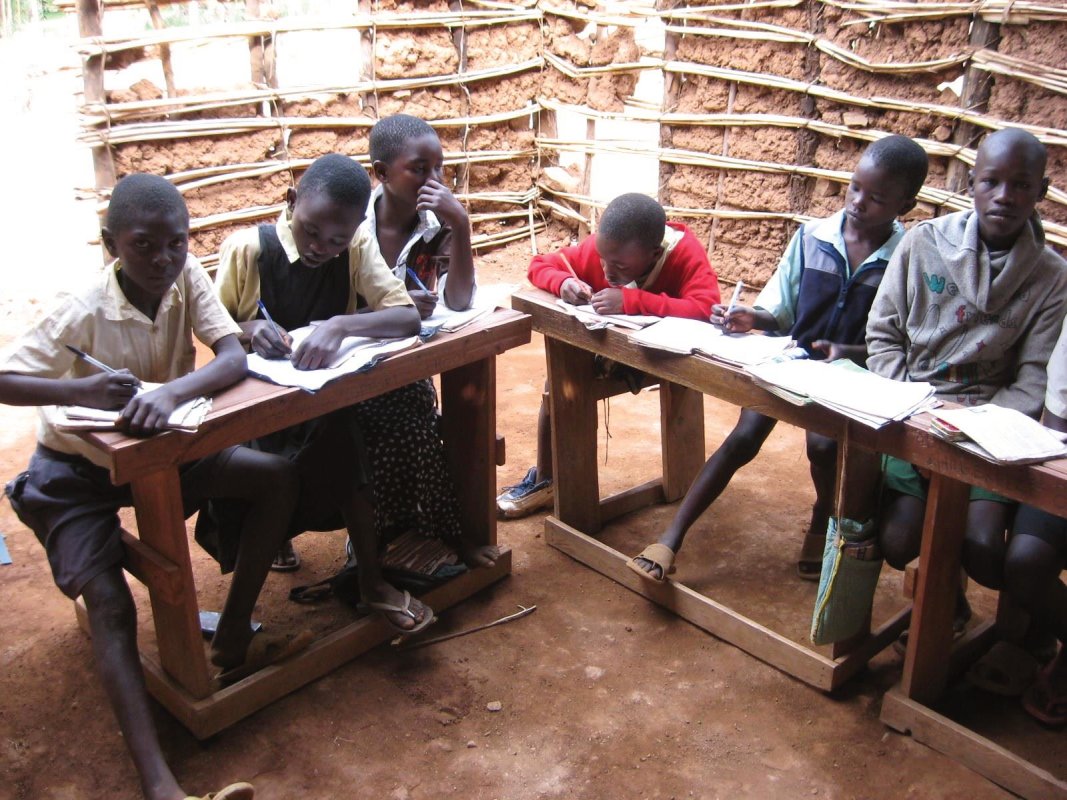 Arrived in Nairobi on the 3rd Oct, and travelled onwards to Nyanza county next day. I am here to stay in a rural community and work in the Hill Breeze orphan school for three weeks. The school was founded by Ken Ariri - himself an orphan, who saw in a vision that he should start a school for children who had been forsaken and had no hope of a good future. He works tirelessly to scratch whatever funds he can to feed and provide learning resources for the children. There are three teachers who work voluntarily for very little money.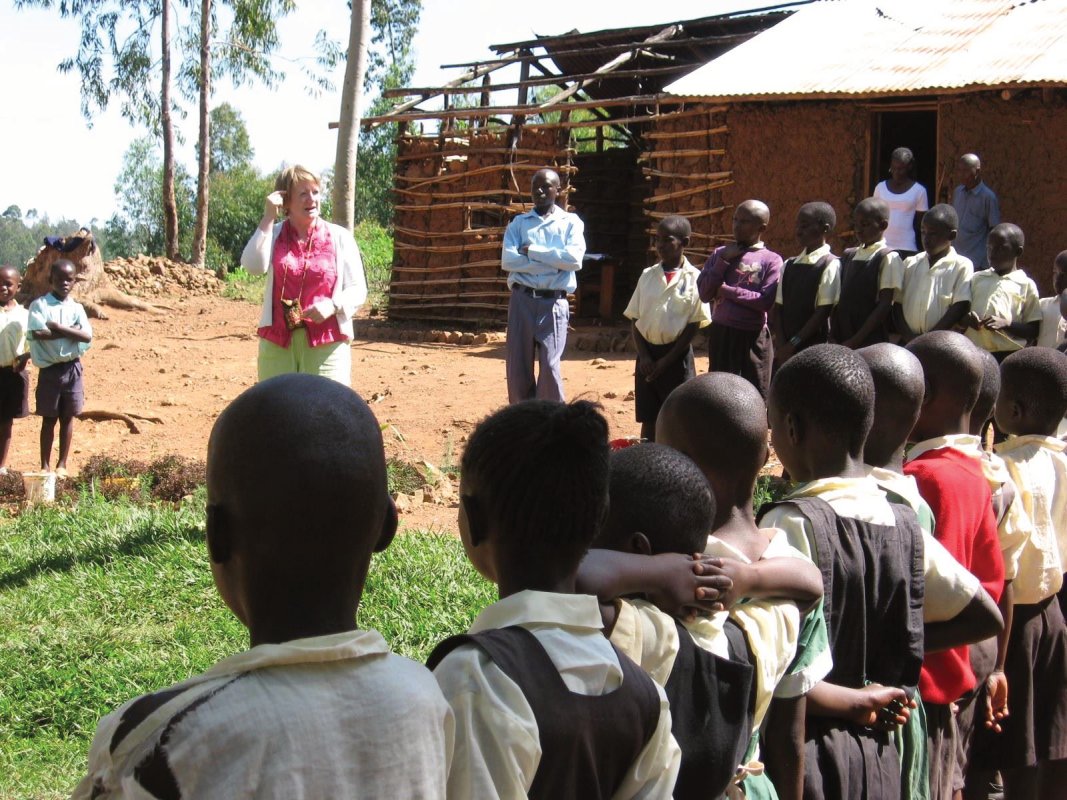 They have been so welcoming and are so impressed that someone from the western world finds them important enough to come and provide support for. The children are so sweet - they range from 2-3 yrs up to about 12 yrs, and come to school at 6.30 am to clean their working environment and start remedial lessons at 7am. They are goggle eyed at having a white person 'mizunga' with them, as many will never have seen one before ) They fight to hold my hand, and touch my hair and skin out of curiosity. I am teaching class 3 (7-9 yrs) class 4 (8 - 11), class 2 (6 - 8). english, science and social studies.
There are four classrooms which were built by the children and some willing volunteers. Made in the traditional way from mud on a wooden frame, the floors are also mud, rocky and uneven, as the school is built on a hillside. The trees (many eucalyptus) provide a shady canopy from the sun, and a lovely aroma too. There is a self-sustainable project providing chickens and eggs to help provide food and a little money for the school.
A meal is conjured up out of no-where for the children at lunchtime - they may get very little at home as many of them are unwanted, being cared for by guardians who make them work for their keep.
I am living in a traditional mud hut, with mud floor too. No running water, everything has to be carried from the river, about 10 minutes walk away. And no electricity either! So oil lamps in the evening and an outdoor shower which consists of a bowl of water in a small enclosure, and a strip down wash!
Toilet facility is a pit latrine - a novelty to say the least (not)! But all things can be tolerated for a short space of time.
I am really grateful to Naraya Urben-Winterfeld who kindly organised this visit for me, and Fazilah Bazari who gave me hospitality when I arrived in Nairobi and is keeping tabs on how I am doing. More to follow. Need to go and get supplies & getback before dark! Much love xx
/